In my last post I mentioned that I'd just purchased the neighboring land at my main store in
Bylot
and that I'd be building a new shop to take advantage of the space.
Well I have, and here it is!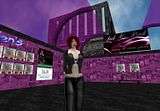 I've also been working like a madwoman to come up with more stock to fill the poor empty wall space. Releasing like one to two new tattoos a day for the past week. My Men's line has expanded to almost equal the number of designs in my Regular, Women's line. And a good number of them aren't even on SLX yet.
::facepalm::
I need more hours in a day, or less RL intrusions. But since neither seems likely, I'll do my best to keep everything updated. Sorry for the slackage!
but I have a good excuse... really!